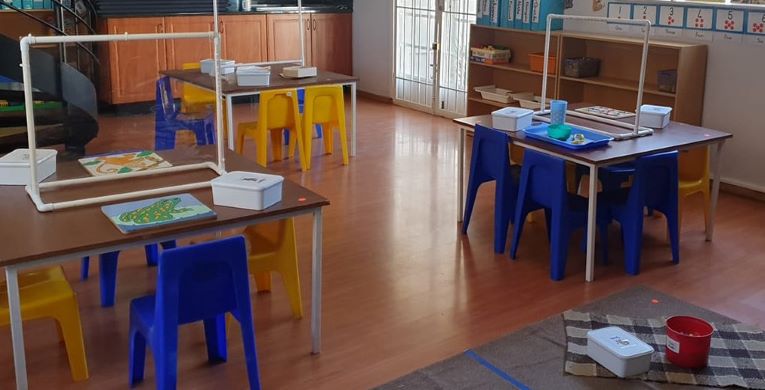 Step 1: Remain inside car for Temperature Check.
Step 2: Answer the screening questionnaire
Step 3: Proceed to entrance where all children will wash their hand with soap and water, bags and belonging gets sanitized, then children's hand will be sanitized at our touchless sanitation station. Lastly, they will sanitize their shoes on our special carpet.
Your little one will now be taken to class by their teacher.
Adaptions
Classes have been set up, with social distancing in mind. 2 children per table, with a screen in between them, the carpet has also been divided up, to allowed for social distancing to take place. Tables and other areas will be sanitized before and after each use.
Toys and equipment will be sanitized in between each child use, and before storing, Each child has their own stationery and playdough, that is kept inside individually marked containers.
All classes, entrances, play areas and common areas have disinfecting stations installed. There is a total of 15 across the school. All bathroom has running water, soap and paper toweling for hand washing, which is done during intervals in the day, and when visibly dirty. Children will be kept in their class format. With their teachers, this way we can contain small groups at a time.
As per the Departments of Health and Social development, no child under the age of 5 is forced to wear a mask. However, if your little one does wear a mask, we then request that they do so. All parents must please pack one mask in your child's bag. If your child does wear a mask, we will allow for "mask free" breathing time. Staff will be wearing masks and visors at all times.
Changing procedures for nappies changing have also been put into place. Staff will wear a disposable apron, and disposable glove when handling little one, these will be changed and disposed of in between each child interaction. The changing area will be sanitized as well. Bathroom time, is limited to 1 child at a time per bathroom, with sanitation taking place in between each child. Teachers are allowed to console your child. As long as we adjure to the regulations So, we will not leave your little one to cry. We have created an isolation area within the school should anyone develop symptoms during the day.
Some staff has also completed updated first aid training that includes covid 19 procedures Our Principal has completed the COVID 19 Compliance exam, and all staff has had extensive training on all new policies and procedures.
We have deactivated all biometrics for the time being, Security will be responsible for opening all security gates. Children have staggered outdoor play times per class, with sanitation taking place in between each group. Each playground has been equipped with a mobile hand washing station. All children are provided with a sun hat with attached visor.
Sleep time, children have their own designated mattress. Sleeping apart and head to feet. Please send a clean blanket daily in a plastic bag. Mattresses are disinfected after nap time, before being stored away.
We have a strict by appointment only policy at the moment, to limit the number of visitors in the school. All parents and visitors who wish to enter the school will be required to wear a mask and is subject to a screening process. The above is not exhausted, and is subject to change as new regulation are brought forward.